Roderick Eime takes to the wing over the NSW Central Coast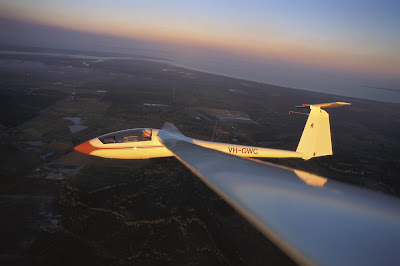 Main image: Al Sim/GoSoaring.com.au
"Today we're going to learn to fly," I told my 12-year-old son. His eyes briefly lifted from the Playstation console, looked doubtfully at me and then proceeded to hammer away at the hand control as he massacred the next wave of invading aliens.
These days, it's all too easy to fall into the abyss of virtual entertainment: racing the latest Formula 1 cars, test piloting jet fighters and creating mayhem with semi-automatic weapons. As fun as these indoor pastimes may be on a rainy Sunday afternoon, when the weather's fine there's no substitute for outdoor fun.
Despite the promise of great satisfaction, most people recoil at the thought of learning to fly. The expense and mental application of aircraft ownership is just too daunting. Yet the sport of soaring (or gliding) offers great opportunities for late-onset pilots and those wanting to get a real joystick in their hands.
Pried away from his PS2, Alex and I head out to meet an old friend who beseeched me earnestly to come for a fly. I think Mike was surprised to see us both as I parked the Outback 2.5 next to two twins on the edge of the airstrip.
"Gliding is becoming popular with retirees," says Mike Woolley, a former travel trade publisher and resident instructor at CCSC, "It's a very social and relaxing sport and an opportunity for chaps (and ladies) who've always wanted to fly to fulfil a latent dream."
I have visions of Battle of Britain lads sitting around on wicker chairs waiting for the scramble siren to blare. Yet, the atmosphere is relaxed and the facilities rudimentary.
George Heard, one of the Outback owners, pours himself a steaming mug of tea from a Thermos just like my mother has, and tells me his soaring story. A Qantas chief steward for over 30 years and recently retired, George first flew a glider over Heroes Hill near Harare, Zimbabwe, in 1984 when a friend insisted he have a go at the pointy end of a plane for a change.
"I was hooked," confesses George, "and I joined my local club the minute I got back!"

All this talk was getting me excited and it was time to strap into the vintage, all-metal Czech two-seater the club uses for introductory flights. Imagine climbing into the constricted cockpit of a Formula 1 car – and it's a tight squeeze for my ample posterior. The racing harness is attached, jockey-sized Mike jumps in behind, the canopy is shut, rope attached, two-way comms on [crackle!] – clear!
The blokes at Mangrove mountain use a winch launch – a monstrous Ford V8 spinning an enormous reel of nylon anchor rope. The rope is taut and, like a slingshot, we're off. No sooner are we mobile and Mike has the nose up in a steep climb. The anticipation is like that first bit of a roller coaster when you know the best is coming.
We reach the end of the tether and release. Most modern gliders (or sailpanes) are made from composite material and some fibreglass, but this old girl is a big tinny. The wind buffets us slightly making that noise you hear inside an empty shed in a storm. Mike finds a thermal (pretty much where they are all day) and it's like the up elevator in Centrepoint Tower and we circle gently for a few minutes, occasionally shoved upward by a new thermal.
I'm gazing, almost hypnotised, down at the mountain scenery beyond when Mike comes over the 2-way softly; "Just look to your left, out by the wing tip." There is the most magnificent wedge-tailed eagle escorting us in formation, his laser-like gaze on the cockpit. "… and above us now." Oh my! There's another, talons extended trying to calculate whether we constitute a mate or a meal. Too big for either, I'd suggest.
"We see them quite regularly up here," says Mike in his matter-of-fact tone. "Time to go in …" And we begin our descent and culminate in a slightly bumpy touch-down on the grassy strip. Alex is the first to greet me as the aircraft comes to halt. "How was that Dad?"
"Your turn, son!"